I'm back online!
With the help of Tom Lanham of
PC Medic
, I have a new hard drive on my computer. Apparently, 1 out of every 10 hard drives crash within the first few years. It seems criminal to me that they don't last longer, but oh well.
Tom did a great job, fixing it within a few days. The repair price was reasonable and he even delivered it back early to my house before I had to pick up my son from Kindergarten. I highly recommend his services if you are in Central Nebraska. His number is (308) 999-0300.
I'm also now in the middle of week 3 of the
YMCA of the Prairie's
Lazyman Triathlon.
Since my new swim cap and goggles came in the mail today, I did my first day in the pool. I haven't really swam since college, so I had no idea how much swimming I could do in an hour. After a few laps, everything I learned about swimming at
Union College
came back to me. I remembered all of those mornings I would swim before classes, trying to get the PE credits done. After 45 min. in the pool, I had completed 24 laps and still felt great!
To complete the triathlon, I have 6 weeks (Aug. 8 to Sept. 16) to
1. Swim 2.4 miles (84.5 laps)
The YMCA pool. We have a really nice Y in town!
2. Bike 112 miles
3. Run 26.2 miles
As of today I have:
1. Swam 24 laps
2. Biked 57.3 miles
3. Ran 17.75 miles
In the next 3 1/2 weeks, I need to
1. Swim 60.5 laps
2. Bike 54.7 miles
3. Run 8.45 miles
I really want that T-Shirt!
Have you ever done a triathlon or other exercise challenge?
This is my second. The first was Hold It For the Holidays a few years ago, when I joined the challenge to
not
gain weight over Thanksgiving, Christmas, and New Years. I actually lost weight during the challege!
I'm doing my best to get a
Friday Vegetarian Potluck
post done this week! Come back and share your favorite recipe and see what others bring!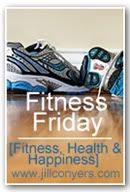 Thanks for hosting the link up, Jill!